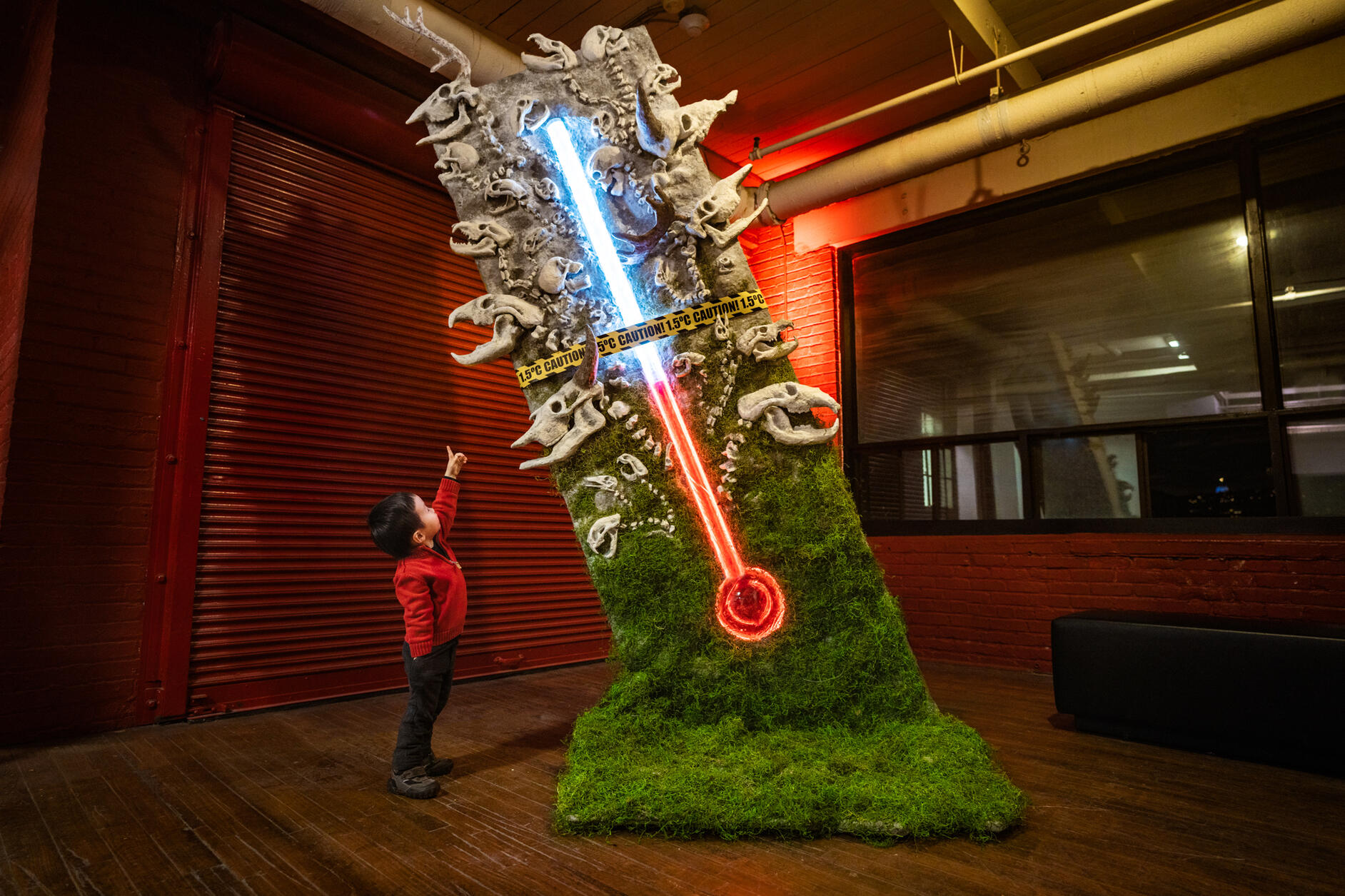 The Extinction Thermometer is an art installation designed by Benjamin Von Wong and hand-sculpted by Dana Waldman to highlight the connection between Climate Change and Biodiversity Loss.Embedded within the #ExtinctionThermometer are the bones of keystone species from all across North America we stand to lose - the Caribou, Grizzly, Sea Otter, Prairie Dog, Moose, Mountain Lion, Wolf, Snowshoe Hare, and Beaver - ending with our own extinction.As we shoot past an average global temperature rise of 1.5 ºC, we risk losing the wildlife and biodiversity that make this planet all our home.But solutions exist all around us.Science done by the One Earth Foundation says that if we can transition to 100% renewables, protect and restore 50% of the land and the oceans, and shift to net-zero food and fiber systems.We can protect, save and regenerate our ecosystems and say no to Extinction. Come see the Thermometer at Quai Alexandria in the Public Action Zone starting this Friday at 6PM! Take photos, share them far and wide, and encourage world leaders to protect our biodiversity!
The Process
Hand-Carved out of upcycled insulation foam, the #ExtinctionThermometer was designed and built over the course of two weeks in the Activism.Studio with the help of dozens of volunteers.Long neon LED lights were added to a wooden frame and decorated with live moss that slowly withers away as the temperature rises.Journalists - Feel free to quote and publish the photos in your online publication (please credit & link back to the original). You can follow This Dropbox Link for more BTS images! Specific Terms of Use can be found here.
---
About The Team
Benjamin Von Wong's work lies at the intersection of fantasy and photography and combines everyday objects with shocking statistics. It has attracted the attention of corporations like Starbucks, Dell, and Nike and has generated over 100 million views for causes like ocean plastics, electronic waste, and fashion pollution. He has created work for the United Nations, the Canadian Government, and large NGOs like Greenpeace.
Dana Waldman is a freelance designer, artist and activist focused on ecological restoration and ecological-based design. Inspired by the natural world and focused on sustaining it, she takes on projects and campaigns that help advance both innovation and purpose within the field She is an active volunteer with various environmental organizations and a proud member of Citizens' Climate Lobby.
*This project was incubated at the Activism.Studio - A non-profit laboratory unlocking the potential of art to power movements and shift culture. Their build space was sponsored by Gi Quo Vadis.
Huge love to our volunteers. This wouldn't have been possible without you:Lisette Ladouceur, Joanie Pepin, Sheena, Talisa Hernandez, Wesley Wize, Andy Son, Tritam Chu, Sing Wong, Jeanette Kho, Alison Wong, Tommy Cheung, Kody Cheung, Francois L Nguyen, Christine Law, Anne T, Ruuka, Anne L. Nguyen, Deedz Kaade, Elena Novali, Tristan Gauvreau, Ray Argaza
If you have the chance to visit the installation at #COP15, you can experience an eco soundscape designed by Tara Baswani and produced by LembasWorks that accompanies the piece.
Special thanks to our Partners and Sponsors who helped to bring this project to life.

---
Host the #ExtinctionThermometer
We are looking for interested partners to display the Extinction Thermometer and the option to rebuild it at a larger and more permanent location.Please reach out if you want to rent the existing one or would like to commission a larger one!